Formal advice
Our advisory board provide the degree of consistency, longevity and background knowledge as advisory board members provide reliable advice on particular issues
Leadership
Our Effective Advisory team can motivate a team to follow them through difficult situations. They help clarify goals and increase team members' self-confidence to help them realize their potential.
Accountability
Our advisory board helps provide accountability to keep you on track with your overall business goals.
Mr. Sriram Mokhasi

is the Founder Director & CEO of

Arka Technologies Pvt Ltd

. Company is focused on Building Product Business in Health Care, Transportation, ODSN (Offline Data Sharing Network), Power Electronics, Security, and Automation product offerings to Defense Establishment.
He has

30 plus years of work experience

in product development in Automobile Manufacturing, Engineering and Earth Moving Industry, System & Hardware Manufacturing, Health care diagnostic and testing Product Development, IT Industry, ODC Management, Heading Overseas Development Centers, and Business Operations in different geographies
He had the opportunity to be associated and worked in Corporate like.

Tata Motors, Automobile Corporation of Goa

( Captive Unit of Tata Motors),

Larsen & Toubro, Tata Elxsi Ltd, IBM India

, Genisys Software-NJ-USA, CT&T-NJ-USA, Mphasis Ltd India, Hewlett Packards (HP) Shanghai-China, EDS-Shanghai-China.
Prof. IIT Bombay Technical Advisor
Dr. Kavi Arya is a Professor of Computer Science & Engineering at the Indian Institute of Technology (Bombay). He did his B.Sc.(Hons.) in Computing Science from Imperial College of Science & Technology (UK) in 1983 and M.Sc.(Hons.)/D.Phil. in Computation from the University of Oxford in 1984. In 1988 he worked at IBM's T.J. Watson Research Labs (Yorktown Heights, NY/U.S.A.) with the Animation Workstations Group before returning to India. In India, he worked as a Research Scientist with Tata Research Design and Development Centre (Pune) from 1992-94 and in various positions in the industry before coming to IIT Bombay in 2000.
Prof. Arya is the convener of the Embedded & Real-time Systems Lab (ERTS). He is

Principal Investigator of the e-Yantra Project, funded by NMEICT

, popularizing "

Project-Based Learning

" using robotics in engineering colleges.
Prof. Arya has developed products for agencies such as BARC and the Indian Army. He spent 2007 on sabbatical with Mahindra & Mahindra Ltd. as a

Chief Technology Officer (CTO)

to the VC & MD's office where he helped incorporate Sustainability into business strategy. He set up the Mahindra Sustainability Cell which prepared Mahindra's first Sustainability report in 2008. He is impaneled on high-level committees by

Technology Development Board (DST) and CDAC.

He is a member IT Advisory Committee of

Metals and Commodity Exchange (MCX) Ltd

. and member

IT Advisory Committee of NABARD

(National Bank for Agriculture & Rural Development). He is a member of

Rashtriya Uchasthar Shiksha Abhiyan (RUSA) Council (Maharashtra)

and of the committee defining the Startup policy for Maharashtra State Universities.
CEO of Areca Tea Marketing Advisory
Nivedan Nempe, the creator of Areca Tea was born in the southern part of India, in a village called Mandagadde, located in the district of Shivamogga, Karnataka. He did his schooling from the Govt. Primary and High School of Mandagadde and pursued a Bachelors's degree in Pharmacy from the National College of Pharmacy in Shivamogga.
Nivedan started a company called Mystic Aromatics and began manufacturing recycled paper air fresheners alongside doing agricultural product developments. His aim was to help the agricultural community, mainly the farmers produce to be put to use in different ways apart from the conventional consumption of the same.
Awards:
1. Make In India Excellence Award-2015
2. Innovative Product of the year-2015
3. Chamber of commerce Business award- 2016
4. Rotary Person of the year
5. JC Samanthana Award
6.  IIPM Innovative Entrepreneur Award
HOD, MSRIT, Bengaluru
Technical Advisory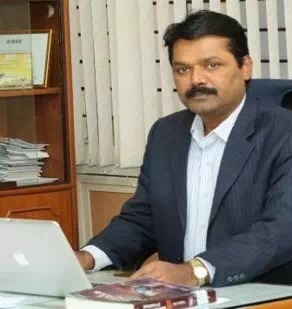 VIJAY KUMAR B. P. Received the Ph. D degree in Electrical Communication Engg., Department from Indian Institute of Science (IISc), Bangalore in 2003, M. Tech degree in Computer Science and Technology from the University of Roorkee (Presently Indian Institute of Technology, IITR), with honors in 1992 and Bachelors degree in Electronics and Communications from Mysore University with Distinction in the year 1987. He is currently a Professor and Head, in Information Science and Engg., Dept., MS Ramaiah Institute of Technology, Bangalore, Karnataka, India, where he is involved in research and teaching UG and PG students, and his major area of research are Computational Intelligence applications in Mobile, Adhoc, and Sensor Networks.
Honors:
1. Distinction with Honors at Under Graduate and Graduate programs.
2. Listed in Marquis Who's Who in the World, 2011, 2014 Listed in Marquis Who's Who in Asia, 2012.
3. Appreciation and Recognition by Nokia University Relations, Finland.
4. ITBiz, Karnataka Government on Best Project "Testing of Mobile Application Software"
Co-founder, ROBO labs, Pune
Sales Advisor
Mr. Prathik's right mix of

technology and business skills

forums a unique blend and comes in as a great positive feature to an innovative company. He has earned experience in technology consulting & solutions in the area of business analytics, analysis, and consulting space.
He is well versed in executing technology projects and has deep knowledge of various industry methodologies.
He comes with unique ideas of working with large corporations majorly in the space of sales & marketing domains.
With a business development background and technical education, he has a fitting understanding an extensive areas of sciences
Associate Director, CPRI
Marketing Advisor
Mr. Manohar has been working as an Associate Director at Central Power Research Institute and he also has his own Power Electronics company.
He is currently working on a Power monitoring and optimization product that can be installed in Solar power plants.
He has a network of Marketing and sales authority all over India.
Electrical Engg. KRIES
Technical Advisor
Mr. S K Mahadeva did his BE from Sri Jayachamaraja College of Engineering, Mysore in Electronics and Communication Engineering.  He served in

MPM

Mysore Papers Mills, Bhadravathi. He was head of the Electrical maintenance department for SugarElectrical.
He is currently serving KRIES (Karnataka Residential Educational Institutions Society), Bangalore. He is an expert in Programmable Logical Controllers programming, 
He has 15+ experience in the field of Power Electronics.
He is an expert in

PLC Control systems.
Proprietor, Model Eng. Works
Technical Advisor
Mr. Gajendra has 15 Plus experience in the fabrication of

SS and MS materials.

He has good knowledge in terms of solving mechanical fabrication and assembly problems.
Proprietor, SS tools & Technologies
Technical Advisor
Mr. Ramesh owns a milling factory in

Peenya Industrial estate

. He has

20 plus experience in terms of VNC Milling and fabrication.

He also manufactures R&D products for several High profile companies.
Director (Technology) Nex Robotics, Mumbai
Technical Advisor and Vendor
Dr. Ananth owns a Robotics Company which has sales and operation in India & Abroad.

Publications:
1.  Anant Malewar, Aniket Bahadarpurkar, Vikram Gadre, "A linear rate control model for better target buffer level tracking in H.264".
2. Signal, Image, and Video Processing, Springer Journal, published online 21 June 2011, DOI:10.1007/s11760-011-0235-7.